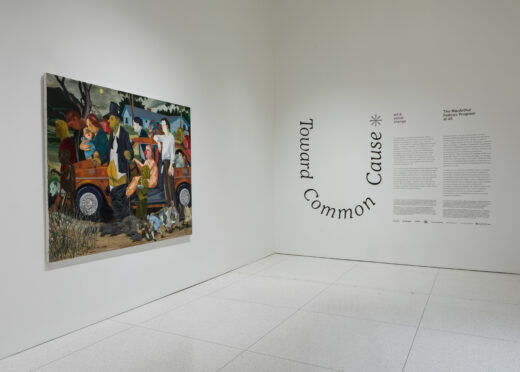 The Smart Museum of Art at the University of Chicago is a site for rigorous inquiry and exchange that encourages the examination of complex issues through the lens of art objects and artistic practice.
Plan your visit
Visits to the Smart Museum of Art are free, but reservations are recommended. Open Tuesday–Sunday 10 am–5 pm; Thursday until 8 pm. Make a reservation to visit.
As the main gallery venue for Toward Common Cause, the Smart Museum presents a group show that foregrounds issues of the natural and built environments: environmental racism, urban geographies, and the depiction of those spaces. The selected works—by Mark Bradford, Mel Chin, Nicole Eisenman, LaToya Ruby Frazier, Jeffrey Gibson, Toba Khedoori, Rick Lowe, Iñigo Manglano-Ovalle, Julie Mehretu, Fazal Sheikh, and Xu Bing—consider how race and class shape our rural and urban spaces while also engaging art historical questions about the history of landscape photography and painting. Together, these works call into question the local and global power structures and social inequities that plague contemporary society, a reality thrown into stark relief by the global pandemic.
Virtual tour
Other initiatives
Toward Common Cause is organized by the Smart Museum of Art in collaboration with exhibition, programmatic, and research partners across Chicago. The Smart is a co-presenter of numerous related events, artist projects, and other initiatives happening in conjunction with the exhibition, both at the Museum and throughout the city.
A cohort of young people from the joint Smart and Chicago Housing Authority Teen Program are deeply engaged in shaping the presentation of Njideka Akunyili Crosby's work at CHA's Minnie Riperton Apartments and the National Public Housing Museum. The teens will also design posters that will be displayed in bus shelters across the South Side in conjunction with another Toward Common Cause initiative, Rick Lowe's Black Wall Street Journey.
About
Through strong community and scholarly partnerships, the Smart Museum of Art incorporates diverse ideas, identities, and experiences into its exhibitions and collections, academic inquiry, and public programming. The Smart offers programs, supports artistic interventions, and provides platforms that address the pressing cultural, social, and political issues of our moment. These projects are driven by the intellectual and cultural energy of its place–the University of Chicago on the South Side of Chicago–and situate the Museum as a critical civic site for its publics to convene in meaningful dialogue and action.
Close