Black Wall Street Journey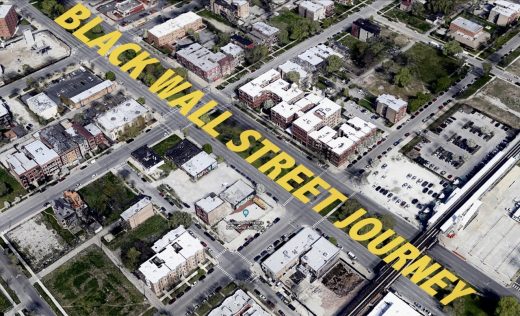 In his first Chicago-based "social sculpture," Rick Lowe is developing Black Wall Street Journey. The multifaceted city-wide project pays tribute to the building of Black wealth, using public art to tell the stories from the journeys of Black communities in Chicago and beyond.
Black Wall Street Journey builds on the connection between Chicago and Tulsa, home to the prosperous Greenwood neighborhood known as Black Wall Street and target of the 1921 Race Massacre killing over 300 Black Tulsans and sending over 10,000 looking for refuge. Black Wall Street Journey's mission is to highlight the innovative minds and entities that have made Chicago a hub of Black prosperity using public art to inform and promote to the general public about Black wealth.
Plan your visit
Hours of operation and reservation policies vary by location, please confirm with each venue prior to visiting.
Black Wall Street Journey
July 15–December 19, 2021
Smart Museum of Art, The University of Chicago
Black Wall Street Journey
Ongoing
Urban Juncture
Black Wall Street Journey has a visible presence at multiple Toward Common Cause venues. As part of a residency at the Neubauer Collegium for Culture and Society and in collaboration with researchers at the Mansueto Institute for Urban Innovation and the Department of Sociology at the University of Chicago, Lowe and the project's community advisory board have created the 24-hour Black wealth video stream Black Wall Street Journal. The journal is on view in locations across Chicago—including the School of the Art Institute of Chicago Galleries in the Loop, the Smart Museum of Art, and Urban Juncture—and features local Black-owned businesses, curated texts by Natalie Moore, and research surrounding Black wealth.
Other dimensions of Black Wall Street Journey include a series of posters, public murals by Dorian Sylvain, a CHOP IT UP conversation series about the Black economy, and a program in collaboration the Smart Museum of Art and Chicago Housing Authority's 2021 summer teen program.
Supported by

Lead support for Black Wall Street Journey is provided by Allstate. Additional support has been provided by the National Academy of Design/Edwin Austin Abbey Memorial Trust Fund for Mural Painting; the Visiting Fellows Program at the Neubauer Collegium for Culture and Society; The Field Foundation of Illinois; and a series of collaborations with a host of local contributors. In-kind support is provided by JCDecaux.
Close