Black Wall Street Journey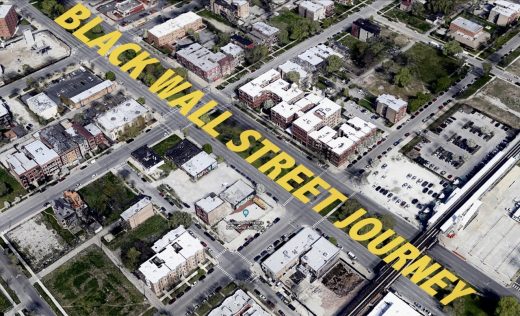 In his first Chicago-based "social sculpture," Rick Lowe is developing Black Wall Street Journey. The project both fosters awareness of the barriers to building wealth in Black communities and offers a platform that demonstrates the resilient, entrepreneurial, creative, and inventive spirit historically and currently present within African American communities.
Launching soon after the 100th anniversary of the Tulsa Race Massacre, Black Wall Street Journey brings together a group of local artists, civic leaders, and entrepreneurs to honor this history and lay a new foundation for Black prosperity in Chicago. When renovations are complete, the project headquarters on the South Side will serve as an arts space, business incubator, and community center.
About
Black Wall Street Journey is being realized in collaboration with the University of Chicago's Neubauer Collegium for Culture and Society, Arts + Public Life initiative, and Smart Museum of Art. Lead support for the project is provided by the Allstate Foundation.
Black Wall Street Journey will also have a visible presence at multiple Toward Common Cause venues beginning summer 2021. As part of a residency at the Neubauer Collegium for Culture and Society and in collaboration with researchers at the Mansueto Institute for Urban Innovation and the Department of Sociology at the University of Chicago, Lowe and the project's community advisory board are gathering data to better understand the economic and social health of Chicago neighborhoods, from the inside out. This information will be broadcast publicly, in the form of a series of sculptural 'stock tickers' installed in locations across the City, including the School of the Art Institute of Chicago Galleries in the Loop and the Smart Museum of Art. Also planned are public installations on bus shelters throughout the South Side.
Supported by

Close