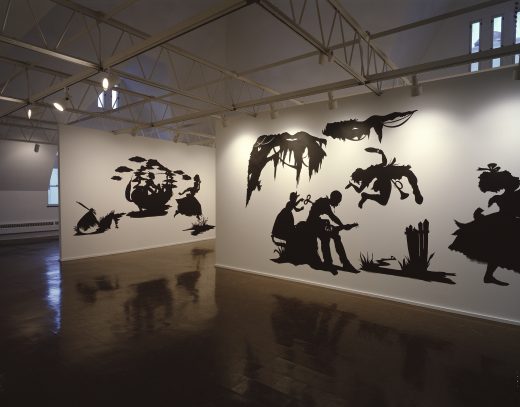 Kara Walker works with shadows. Black silhouettes depicting antebellum America pop against a never-ending white. This is may be her best-known work: Gone: An Historical Romance of a Civil War as It Occurred b'tween the Dusky Thighs of One Young Negress and Her Heart. First exhibited in 1994, this 25-foot-long paper installation is reminiscent of Victorian shadow portraits, the slender outline of the figures a nod to children's storybooks. But there is something unnerving about these scenes, and a second glance will reveal the figures are staged in violent acts. Gone walks the line between history and myth. This is true of much of Walker's work. With her distinct style, she transforms what we thought was familiar into uniquely uncanny shapes.
Originally from California, the artist has held exhibitions at many of the world's leading museums and has dedicated her career to exploring themes of race, gender, and violence in society. Since signature moments like Gone, Walker has contributed to the global art world for over 20 years, employing a wide array of artistic media. She is not bound by material. Working across the spectrum, she has used paper, sculpture, painting, and installation, among others. Amid these changing forms one thing becomes clear: Walker's true medium is history.
Indeed, one of her most recent works, Fons Americanus, a giant fountain that explores the role of public art in crafting historical and cultural narratives, opened at the Tate Modern in 2019. This piece is inspired by a London icon, the 1911 Victoria Memorial Fountain at Buckingham Palace. Here, Fons Americanus leans into the allegorical tradition of public monuments to subvert conceptions of success. Although worlds away in form, Fons Americanus is not a departure from foundational pieces like Gone, but an exploration transformed, a renewal of constant themes.
It is in this dedication to revisiting our past and renewing our present that Walker's art fits into the framework of Toward Common Cause. Displaying new objects while also including works from the past, this exhibition poses questions about access and inclusion. Toward Common Cause pushes us to consider what is "common" in society and who has access to natural and cultural resources. Like this exhibition, Walker's body of work questions the mainstream narratives that shape our world, while challenging our contemporary view of the past.
Whether through paper, allegorical sculpture, or musically accompanied installation, Walker's work pulls from styles and stories ingrained in our cultural memory. In harnessing history, Kara Walker casts shadows on our present, her work confronting viewers with the silhouette of our past.
—Marie-Capucine Pineau-Valencienne
Close