In Conversation: Kara Walker and Hamza Walker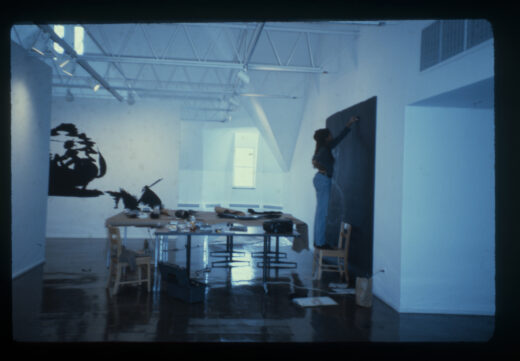 Join Hamza Walker and Kara Walker for a virtual discussion as they reflect on Presenting Negro Scenes Drawn Upon My Passage through the South and Reconfigured for the Benefit of Enlightened Audiences Wherever Such May Be Found, By Myself, Missus K.E.B. Walker, Colored.
The installation was first commissioned by The Renaissance Society in 1997 and is now presented at the DuSable Museum of African American History as part of Toward Common Cause: Art, Social Change, and the MacArthur Fellows Program at 40.
---
Program video
---
About the participants
Hamza Walker is director of LAXART, a nonprofit art space in Los Angeles, and an adjunct professor at the School of Art Institute of Chicago. Prior to joining LAXART in 2016, he was director of education and associate curator at the Renaissance Society, a non-collecting contemporary art museum in Chicago. Recent exhibition at LAXART include Kandis Williams/Cassandra Press The Absolute Right to Exclude (2021), and Post Commodity Some Reach While Others Clap (2020). Exhibitions at the Renaissance Society include Teen Paranormal Romance (2014), Suicide Narcissus (2013), Several Silences (2009), Black Is, Black Ain't (2008) and New Video, New Europe (2004). Walker also co-curated (with Aram Moshayedi) the 2016 iteration of Made in L.A. He has won the Walter Hopps Award for Curatorial Achievement (2004) and the Ordway Prize (2010) for impact on the field of contemporary art.
Kara Walker is best known for her candid investigation of race, gender, sexuality, and violence through silhouetted figures that have appeared in numerous exhibitions worldwide. A solo exhibition focused on Walker's drawing practice will open at the Schirn Kunsthalle Frankfurt on October 15. Entitled A Black Hole is Everything a Star Longs to Be, the exhibition will feature over 600 works on paper made from 1993 through 2020, many of which are drawn from the artist's private archive and have never been seen before. These works on paper reveal the scope of Walker's process, from sketches, studies, and collages, to texts and "dream journals." The exhibition was organized by Dr. Anita Haldemann, head of the Department of Prints and Drawings and deputy director at the Kunstmuseum Basel where the show premiered in June 2021. It will also travel to the DuPont Museum of Contemporary Art in Tillburg, The Netherlands. Born in Stockton, California in 1969, Walker was raised in Atlanta, Georgia from the age of 13. She studied at the Atlanta College of Art (BFA, 1991) and the Rhode Island School of Design (MFA, 1994). She is the recipient of many awards, notably the John D. and Catherine T. MacArthur Foundation Achievement Award in 1997 and the United States Artists, Eileen Harris Norton Fellowship in 2008. Walker is a member of the American Academy of Arts and Letters (elected 2012) and the American Philosophical Society (elected 2018). She was also named an Honorary Royal Academician by the Royal Academy of Arts, London in 2019. Her work can be found in museums and public collections throughout the United States and Europe including The Solomon R. Guggenheim Museum, New York; The Museum of Modern Art, New York; The Metropolitan Museum of Art, New York; The Tate Gallery, London; Museo Nazionale delle Arti del XXI Secolo (MAXXI), Rome; The Broad, Los Angeles, CA; Harvard Art Museums, Cambridge, MA; Museum of Contemporary Art, Los Angeles; San Francisco Museum of Modern Art; and Museum of Fine Arts, Boston. Kara Walker currently lives and works in New York City.
Close