South Side Community Art Center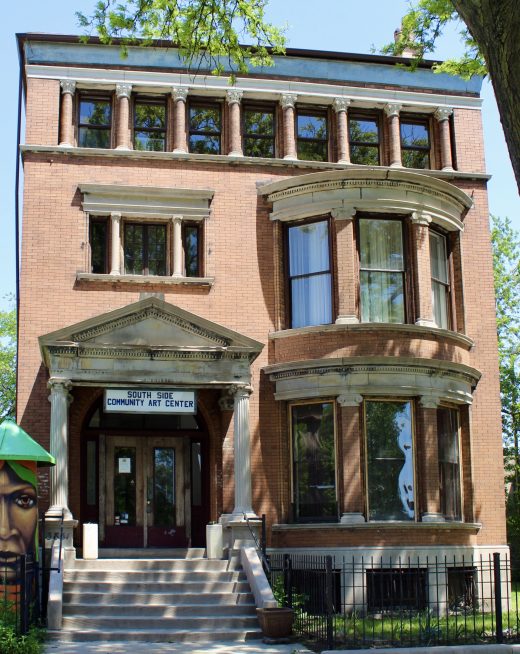 South Side Community Art Center is the oldest African American art center in the United States and is a Chicago Historic Landmark.
Plan your visit
Reservations are not currently required to visit South Side Community Art Center. Open Tuesday–Saturday 12–4 pm. Learn more and plan your visit. 
Mining vintage photographs of unknown people for much of his subject matter, Whitfield Lovell aims to, in his words, "illuminate the humanity and richness" of ordinary African Americans who lived between the Emancipation Proclamation and the civil rights movement. Shown at SSCAC as part of Toward Common Cause are portraits from Lovell's Spell Suite, a series name that references a sequence of pieces in music or dance and conjures the mesmerizing quality of enchantment. Lucidly rendered and powerfully expressive, these Black figures contradict the stereotypes of African Americans that have been perpetuated by mass media, such as The Beulah Show recording that plays from Lovell's installation of radios, After an Afternoon. Together, these works probe the effacement of cultural memory with sensuous tones that activate the legacy of those whose personal histories have been lost.
About
South Side Community Art Center conserves, preserves and promotes the legacy and future of Black American art and artists while educating the community on the value of art and cultural preservation. Founded in 1940, SSCAC showcases established, mid-career, and emerging artists. and taking pride in this rich past, SSCAC today builds on its legacy, while also serving as a thriving contemporary artist- and community-centered space. Its programs, exhibitions, and events not only remain dedicated to its legacy, but also uplift the concerns, aesthetics, and concepts important to Black artists of today.
Close